Spring Term 2022
Business & Enterprise
Reception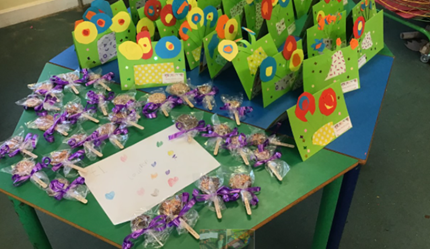 In the spring term, the Reception children decided to make chocolate lollipops and sell them to make lots of money so that we could buy something for our outdoor area! We decided to make chocolate lollipops because we thought that Hansel and Gretel would really like them! We spoke about how much the ingredients would cost and Mrs Chambers kindly nipped to the shop to get everything for us to make them. Then we set to work! We melted the chocolate and scooped a spoonful onto a piece of greaseproof paper. Then we added our lollipop stick and our decorations. We thought about how we could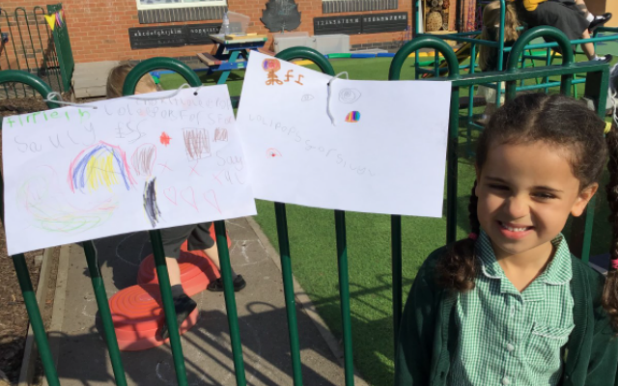 persuade our Mummies and Daddies to come and buy a chocolate lollipop, so we made posters to advertise the sale and the price of £1 per chocolate lollipop. We raised £46. However, we had to think about taking the cost of the ingredients out of the total we had made. We spoke about taking away £6. Therefore, we made a super £40! We are still deciding what to spend our money on but we have had some very good ideas for our next marble treat.
Year 2
In the Spring Term, we decided to sell herb pots for our Business and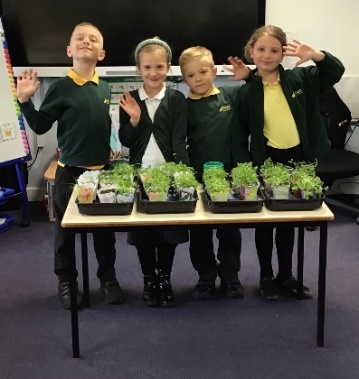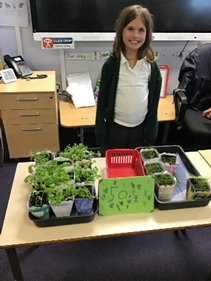 Enterprise project. Just before the half term break, we worked in teams and planted Basil, Coriander, Parsley and Chive seeds. Over the term we looked after the seedlings and watched them grow. To make our herb pots ready to sell we decorated wraps to go around the pots and labelled them with which herb they were. We sold each pot for 50p and after adding up what we spent on seeds, pots and compost, Olive Class and Lime Class made a total profit of £25.70! Well done Year 2!
Jobs & Careers
Reception
In the spring term, the children in Holly and Maple Class had a special visitor that was a microbiologist. The microbiologist's name was Kym and she told us all about how she looks at people's poo to find out what germs have entered their bodies! We found it fascinating! We pretended to be microbiologists too. We looked at different types of poo and how food travels through our bodies. We cross-referenced the poo against the Bristol Stool Chart. We used petri-dishes and we even tried on a lab coat! We had an amazing time!
Year 1
Our WOW for our Spring 1 animals topic was to have a visit from Oreo and Friends, paid for by the money raised at the Christmas Market. The handlers brought in lots of different animals for us to stroke and handle. We saw a tarantula, a millipede, a Chinese water dragon, a monitor lizard, a boa constrictor, a python, two rats, an armadillo and a chocolate coloured skunk! The handlers explained how to take care of the animals and how to feed them. We knew we had to be careful with the animals and stroke them from their heads to their tails, so we didn't hurt them.
Year 2
During our Masterchef topic in the Spring Term, Sharon our school cook came into Year 2 to talk to us about being a chef. She explained how she learnt how to be a chef and the qualifications she achieved and needed to get the job. Sharon then told us about everything she has to do as our school cook. To be able to make the correct amount of food for everyone in school she has to calculate how much food to order, work out the exact measurements for the recipes, know how to cook and bake lots of different foods, know about food allergies and food hygiene. Sharon showed us how she bakes the bread in school and she very kindly gave us a piece to taste that she had made earlier. We had a wonderful time!
Thank you Sharon!
Year 3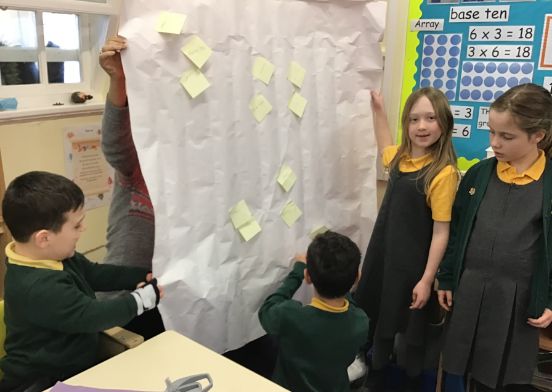 Year 3 were lucky to have a visit from a doctor as part of their human body topic. Our local doctor came into class and talked about what it is like to be a doctor. He spoke to the children about some of his experiences at work and how hard it was to become a doctor, the skills needed and how important it is to study at school.
We then wrote lots of questions as a class and asked them to help us find out more.
Year 5
In the Spring Term, Year 5 had a visit from Sergeant Whitt. He talked about his role in the police force and the different areas he has specialised in. We were very fortunate that he was able to bring in lots of equipment, such as police helmets and handcuffs, for the children to have a look at. He explained that there are a variety of roles within policing and what sort of skills and qualities you need to be a police officer.
Year 6
In the Spring Term we visited Cromford Mills and took part in role play sessions discovering how the children during the Industrial Revolution lived and the jobs they were expected to do in the factories at that time.